Actualités du réseau FIRST-TF
AG 2019 de FIRST-TF : plus que quelques jours pour s'inscrire

10 octobre 2019, Marseille.
L'Assemblée Générale de FIRST-TF aura lieu cette année jeudi 10 octobre 2019 à Marseille, au Jardin du Pharo. Un dîner de bienvenue aura lieu la veille au soir.
Il s'agira d'un moment d'échange important entre les laboratoires, les industriels, les centres techniques et agences, les établissements qui contribuent à la vie du réseau FIRST-TF. Cette assemblée générale permettra aussi de présenter les résultats des projets soutenus et de débattre sur des sujets spécifiques.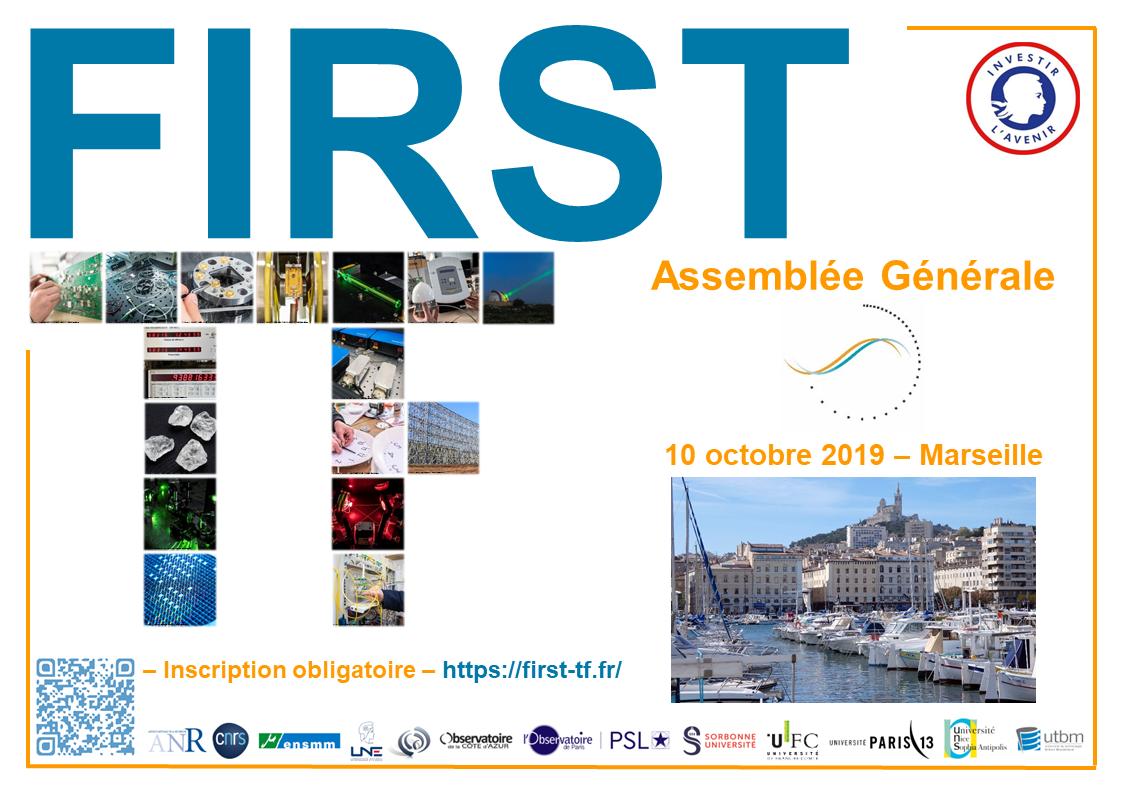 Date limite d'inscription (gratuite mais obligatoire) : 19 septembre 2019.
CARNET NOIR
Disparition de Jocelyne Guéna

C'est avec une immense tristesse que nous vous faisons part du décès de notre chère collègue Jocelyne Guéna qui nous a quittés brutalement le 16 août à l'âge de 61 ans.
Jocelyne Guéna était directrice de recherche au CNRS. Ancienne élève à l'Ecole Normale Supérieure, elle a obtenu son Doctorat d'Etat en 1985 au Laboratoire Kastler Brossel, sur la première observation de la Violation de la Parité dans l'atome de césium, qui constitue un test expérimental à basse énergie des théories d'unification des interactions fondamentales. En tant que chercheuse au CNRS, Jocelyne Guéna a poussé la précision de ces mesures de Violation de la Parité et reçu en 1999 le prix Servant de l'Académie des Sciences pour sa contribution à ce champ de recherche.
En 2005, Jocelyne Guéna a effectué un changement de thématique vers la métrologie des étalons de fréquence. Elle a passé deux années en Suisse, à l'Observatoire de Neuchâtel puis au METAS à Bern, où elle a participé au développement d'une fontaine atomique à jet de césium continu refroidi par laser. En 2007, elle a rejoint le SYRTE à l'Observatoire de Paris où elle s'est consacrée au développement à l'état de l'art des fontaines à atomes froids de césium et de rubidium, à leur exploitation pour l'amélioration des performances en métrologie temps-fréquence et pour réaliser des tests de physique fondamentale. Son implication exceptionnelle a permis de transformer ces extraordinaires objets de recherche que sont les fontaines atomiques en des outils pour la recherche fondamentale et pour les services scientifiques, tels que le Temps Atomique International et le Temps Universel Coordonné. En 2017, ses travaux ont été récompensés par le prix de la Recherche du Laboratoire National de métrologie et d'Essais.
Tous ceux qui ont bien connu Jocelyne garderont le souvenir d'une chercheuse passionnée, et dont la rigueur scientifique n'avait d'égal que la modestie. Ses qualités humaines, ses compétences scientifiques et son sens profond de l'intérêt général l'avaient conduite à prendre des responsabilités importantes au sein du SYRTE et de la communauté temps-fréquence.
PUBLICATIONS
EPJ QT special issue: "Quantum Metrology & Quantum Enhanced Measurement"
Quantum technologies are one of the major future challenges for research and science, but also a major opportunity for industry with respect to innovation and high technology. Indeed, quantum technologies and devices have already started to have an impact in industry, and several large companies are now developing new quantum devices or have started to integrate already existing devices into their products.
The exploitation of quantum effects in customised systems can lead to devices with superior performance and capabilities for sensing, measuring and imaging. The aim of this Special Issue on Quantum Metrology & Quantum Enhanced Measurement of the European Physical Journal Quantum Technology is to present cutting-edge research in the context of all these R&D quantum technology domains, as well as to highlight activities aiming to develop the necessary standardisation and metrological infrastructure for the characterisation and certification of the new quantum-based devices.
We invite you to submit articles for this special issue.
The special issue will be published as a Topical Collection in the framework of the Continuous Article Publication scheme allowing the usual EPJ Quantum Technology fast publication schedule whilst maintaining rigorous peer review; all articles must be submitted online, and peer review is managed fully electronically by the editors of the Special Issue.
Submissions are accepted from now until 30 June 2021.
PRIX
Proposals for IEEE International Frequency Control Symposium IFCS Awards
19-23 July 2020,

Keystone( Co, USA).
Possibility to propose the application of a colleague for one of this three IEEE awards, presented annually at the IEEE International Frequency Control Symposium: the Cady Award, the Rabi Award, and the Sawyer Award.
The W. G. Cady Award: The W. G. Cady Award is to recognize outstanding contributions related to the fields of piezoelectric or other classical frequency control, selection and measurement; and resonant sensor devices.
The I. I. Rabi Award: The I. I. Rabi Award is to recognize outstanding contributions related to the fields of atomic and molecular frequency standards, and time transfer and dissemination.
The C. B. Sawyer Memorial Award: The C. B. Sawyer Memorial Award is to recognize entrepreneurship or leadership in the frequency control community; or outstanding contributions in the development, production or characterization of resonator materials or structures.
=> Questions regarding IEEE UFFC-S awards and proposals should be addressed to the IEEE IFCS Awards Chair, Awards Chair, James Camparo.
CONFÉRENCES, WORKSHOPS, SOUTENANCES
ACES Workshop

October 28-29, 2019,

Institut d'Astrophysique de Paris (Paris, France).
This joint meeting of the ESA Topical Teams "ACES & General Relativity" and "ACES & Geodesy, clocks and time" focuses on the utilization of ACES and highly accurate clocks in space, both from a point of view of space geodesy and fundamental physics. Topics of interest are:
The application and potential of highly accurate Clocks in Space such as ACES
Tests of the Einstein Equivalence Principle (EEP)
Laser Time Transfer using Satellites such as ACES and T2L2
Future applications of coherent time in space geodesy
The distribution of accurate time and frequency for metrology and geodesy

The colloquium will bring together the scientific community interested in the applications of highly accurate space clocks like ACES/PHARAO in all domains, from theoretical physics to cold atoms and application in geodesy and atmospheric studies. Furthermore we look at the scientific potential of near lossless links among high performing ground clocks and satellite clocks, both in time and frequency.
The meeting will consist of invited and contributed presentations on the details of ACES, data analysis and scientific applications. Whilst centered on ACES/PHARAO the colloquium is open to more general contributions on theory and experiments in any of the related subject areas. The aim is to prepare within the broad scientific community for the upcoming launch (2020), the scientific exploitation of the data and the development of new applications in space geodesy.
The workshop will include both review and contributed talks with ample time for discussion.
Deadline for abstract submission: September 15, 2019.
Time and Money 2020: Workshop on Time Sync Requirements and Distributed Ledger Technologies in the Financial Sector
January 28, 2020,

New York Stock Exchange (New York, USA).
Learn from the experts about the critical role of timing and synchronization in enabling security and authentication within a distributed ledger technology environment.
Distributed ledger technology (DLT) and clock-synchronized distributed transaction systems are creating innovative disruption in spaces typically occupied by traditional information repository methods and transaction ledgers. Precise and secure timing and synchronization are critical to advancing this revolution. The experts on this topic will convene at Time and Money 2020.
The event delivers important insight into the market impact of evolving DLT technologies and how precision timing increases the value of these offerings. It explains the critical role of precise time traceable to as well as leading-edge techniques to accomplish this. You will leave with a better understanding of clock-synchronized distributed transaction systems and their overall impact on DLTs' future.
Time and Money 2020 will cover:
Timing and DLT
What is Timing and What Issues are Associated With It
How DLT Will Revolutionize Secure Distribution in the Financial Marketplace
Timing in Virtualized and Cloud Environments
Reliability and Vulnerability of Precision Timing
Integrating IoT, DLT and Distributed Time Systems
Call for Papers deadline: September 16, 2019

FORMATIONS
Unités : modes d'emploi
En 2018, les physiciens changent la façon de définir les unités fondamentales comme le kilogramme ou le mètre. On pourra maintenant toutes les fabriquer à l'aide de méthodes scientifiques utilisant des constantes fondamentales et des théories bien établies. Plus besoin d'étalons ou de références humaines. Voici les 7 nouveaux « modes d'emploi » pour fabriquer ces unités, à télécharger sous pleins de formats librement.
Design graphique : Marie Jamon ; Physique : Julien Bobroff ; Un projet de « La Physique Autrement », LPS Univ. Paris-Sud, Univ. Paris-Saclay.
Copyright : l'ensemble de ce projet est mis à disposition selon les termes de la licence Creative Commons BY-NC-ND
Post-doctoral position on the subject "Ultra-cold atoms in an all optical bubble shaped trap"
LP2N laboratory (Bordeaux, France).
The research topics is related to quantum gazes in microgravity and precision measurements. The first part of the project addresses bubble-shaped quantum gas (3-D spherical shell confinement), both on the theoretical aspect of the trapping and imaging and the experimental aspect. The project relies on the new quantum gaz in microgravity experiment, which will also address tests of gravity radiometry measurement with ultra-cold atoms in microgravity.
The ideal candidate should have a PhD degree in physics, a background in
experimental atomic physics, quantum gazes or atom interferometry. The first part of the work will consist in modelling the new experiment to produce a bubble-shaped trap for ultracold atoms. The study will include a complete characterization of the method including the loading in the trap, the atom losses, the heating rate, and the nature of the cold atom gas itself in function of the temperature and the atom-atom interactions. Additionally, the microscopic and macroscopic theory of the ultra cold atom gas in the bubble-shaped trap will be studied in interaction with theory groups in condensed matter physics or fluid mechanics in Bordeaux. The second part of the work will consist in implementing the experiment.
Junior Research Group Leader for the research group focusing on Novel Frequency References
Physikalisch-Technische Bundesanstalt (Braunschweig, Germany).
At PTB, we currently achieve lasers with the best frequency stabilities worldwide. We employ these ultra-stable frequency references with high phase coherence in our optical clocks and in tests of fundamental physics. In anticipation of the expanding applications of ultra-stable frequency references, particularly for fundamental metrology and for portable devices, we seek an outstanding candidate to head an experimental research group at PTB, which will meet the diverse, long-term needs of this field.
Under the mentoring of a PTB scientist, we expect close collaboration with fellow PTB scientists and partners within the QuantumFrontiers Cluster of Excellence on current research pursuits; these include research activities on ultra-stable optical cavities, low-thermal-noise mirrors and improved optical clock performance.
PTB, TU Braunschweig and Leibniz University Hannover offer an exciting collaborative research environment at an internationally competitive level as well as laboratories with state-of-the-art facilities.
To establish your own personal research activities in this field, the position includes core support from the Cluster of Excellence for funding a PhD student as well as for equipment for your own research activities in this field such as optical cavities at ultralow temperatures, active atomic light sources, solid-state-based narrow linewidth frequency references and micro-optical systems.
The position is initially limited to three years. After successful evaluations, the position can be extended for three more years and afterwards changed into a permanent staff position at PTB.
Post-doctoral positions on experimental projects involving optical frequency combs, advanced laser physics, photonics and precision spectroscopy
Max-Planck Institute of Quantum Optics (Garching, Germany).
We conceive new techniques of atomic and molecular spectroscopy using optical frequency combs. We develop novel frequency comb sources using state-of-the-art photonics and laser tools. We perform a variety of experiments in molecular physics with applications that range from precision spectroscopy of small molecules in the gas-phase to biosciences. We analyze our experimental spectra to provide novel insights in the understanding of atomic and molecular structure and dynamics. All experiments are table-top and may be operated by one person or a very small team.
Product Line Manager Time & Frequency
Oscilloquartz (Neuchâtel, Switzerland).
Define the Cesium product line roadmap

Define the marketing specification of new features and products

Interfaces directly with OSCILLOQUARTZ customers and customer facing organizations, and with internal engineering organizations so to capture market requirements and satisfy tactical and strategic customer needs.

Author Marketing Requirements, including Market study, Competition analysis, Product requirements, Price, Planning, go to market strategy.

Communicate customer needs back into OSCILLOQUARTZ internal organizations to influence design and business priorities and to deliver timely solutions to customer programs.

Coordinate with OSCILLOQUARTZ business development teams to prioritize product features across a broad range of opportunities. Research and participate in standards activities in related fields and disciplines to ensure conformance to relevant industry standards and practices,

Develop pre-sales documentation to support OSCILLOQUARTZ BD team.

Support internal manufacturing and business processes to realize successful program delivery.
Post-doctorat Horloge compacte

Thalès TRT et SYRTE (Paris, France).
Missions : Développer une horloge CPT compacte en exploitant un VECSEL bi-fréquence métrologique, puis optimiser les paramètres expérimentaux qui impactent la stabilité de fréquence de l'horloge.
Activité principale :
Interfacer le VECSEL bi-fréquence avec un résonateur atomique dédié sur un banc optique compact

Optimiser les paramètres qui impactent la stabilité de fréquence de l'horloge CPT

Interfacer le VECSEL bi-fréquence sur un banc optique miniature

Démontrer la performance de l'horloge CPT ultra-stable et compacte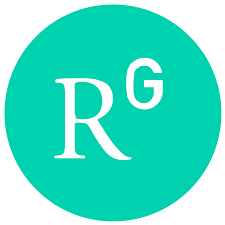 Pour abonner votre adresse à la liste de diffusion FIRST-TF, pour diffuser toute information intéressant la communauté FIRST-TF, pour toute question ou remarque, envoyez un e-mail à contact@first-tf.com.